SummitTrek News, Everest, Basecamp Trek, Peaks in Nepal trekking news
SummitTrek News, Everest, Basecamp Trek, Peaks in Nepal trekking news
---
Our team is now trekking to Everest Base Camp. So far we have only seen one other group with three members. The weather has been sunny during the day and cool at night. Following in the footsteps of Sir Edmund Hillary and Sherpa Tenzing Norgay, we are treking the terraced green villages along the Khumbu River Valley up to the massive Khumbu Glacier. We are excited to step foot onto the world's most famous base camp at Everest. Click Here for information about our upcoming Everest Basecamp Trek Nepal in November, Jan, Feb, March, and April
---
Blog posts: Please scroll down for day by day news and photos of our trek.
Photo Eric.
Photo Eric.
---
14 June Everest News: Qatar Airlines? What The Heck IS That?
Well, our plane is currently airborne and we are all getting stuck into the inflight entertainment, playing games, watching news, checking out latest and greatest Bollywood and Hollywood films. The very friendly Qatar Airlines staff keep bringing us drinks, snacks, and meals. This is about the best fed we have ever been on any flight. Some of our Nepalese fellow passengers seem to be relishing the free booze with extra enjoyment drinking it by the double measure, which they request as "two pegs".
What the heck is Qatar Airlines anyway? Well, the State of Qatar lies on the shore of the Persian Gulf near to Saudi Arabia. Qatar's population is about 1 million and the capital city is Doha. Qatar Airlines is the national airline of Qatar and belongs to the Qatar Royal Family and some investors. On this Qatar Airlines flight we are on, most of the passengers look to be Nepalese with a few assorted European people as well as some Middle Easterners. The inflight staff on the plane look to be an interesting mixture of Middle Easterners, Russians, and perhaps even a few Chinese, but no Nepalis. The pilot has an English name and a British accent. This plane is a brand new Airbus aircraft.
One thing we can say about Qatar Airways is that it seems to be a very reliable airline for flights to/from Nepal. They have a good schedule and go to lots of cities around the world. Also, nowadays another very commonly used carrier to/from Nepal is Turkish Airlines, and people also speak highly of Turkish Airlines.
So, our flight continues, and after 4 hours and a bit in the air, 1.5 movies and a few sessions of eating and drinking, the pilot comes on with his friendly British accent to let us know we will be landing. Its 2 am local time. Quickly we are on the ground, and we file off the plane into the spotless brand new terminal and head for the transfer section. Since we already have our boarding pass for the next flight, we can go straight into the main waiting area and hang out for 6 hours until they announce at which gate our flight will depart at 8:00 am. Along the way, as we walk through the airport, going through the various different checkpoints, halls, etcetera, we are struck by the Nepalese nature of this place. The airport staff look to be totally Nepali, and about 40% are women. The people checking us through security are entirely Nepali. And the passengers on our flight were 90% Nepali too, and they look to be about 40% women. Everyone is so friendly and relaxed here. It is noticeable. Perhaps because its 2am and everyone is sleepy? Not sure.
Now we are hanging out in the Doha airport for 6 hours in the middle of the night. It is a massive airport. And it is fully open all night. No shops are closed. All shops and all restaurants are open. Our Nepali hosts greet us and encourage us to sample their wares. There are an enormous number of luxury shops selling clothing, handbags, cosmetics, liquor, cigarettes, a few electronics shops, a few magazine/book shops, and a few restaurants. Everywhere we go we see the Nepalese shop attendants wearing their black suits and ties.
Eventually we break down and go into one of the food courts to buy a salad and a plate of rice and veg which is not so bad. We did go upstairs to see about booking into a room for some sleep, but they said they were fully booked, so after eating we just decided to nap out in a chair. These are the type of chairs arranged into benches with each seat being separated by steel arms, thus making it well nigh impossible to lie down and stretch out.
Finally they call our flight and we go out to our gate B12. After some boarding intricacies where they make us line up according to zones, we get onto the plane for our 14 hour flight. This plane is a Boeing. This time, the passengers are an amazing mixture of Europeans, Asians, Indians, and all manner of people from all over the world, but few if any Nepalese. It seems they all got off in Qatar. Now we are on this flight for 14 hours, during which we can easily watch 5 movies, work on some email, eat, drink sleep, and still have time to walk around the plane, go to the bathroom. The inflight staff of Middle Easterners, Russians, and Asians feed us 4 times during the flight, and bring numerous drinks. Each time we get up to go to the bathroom and walk around the plane, some very polite staff ask if they could help us. Wow. Excellent service by Qatar Airlines.
After what seems like eons, our very friendly British accented pilot comes on to let us know we are landing, and then we touch down. It is raining and they cant sem to find anywhere to park, but eventually they do, and we make our way into the terminal and up to the immigration counter. The immigration officer asks us a few simple questions and welcomes us home after 2.5 months. Wow. That was a long time to be gone. We pick up our bags and the customs officers wave us through, not searching anything and we trolley out to the curb at the arrivals and are picked up by family members. After a warm hug its very good to be home, and we make the drive back home, a bit groggy but very happy. WE MADE IT!
---
13 June Everest News: What's It like To Fly From Kathmandu's International Airport?
We did not sleep very well last night. I guess due to pre-flight jitters about whether or not we would get seats on today's flight out of Kathmandu (Ktm). You know how it is when you keep running through those scenarios in your head? What will happen if….? We don't get on the flight, or we do and the flight gets diverted to a different destination, or we get stuck in the hub airport? OMG.. I can't sleep. All of these worrisome scenarios maybe cathartic, but they surely lead to a groggy A.M. wakeup call and that first cup of coffee doesn't do much, so we need a 2nd one to be functional. Well we had a rather quiet breakfast around the table this morning. I guess you could say it was a meal seasoned with worry, fear and trepidation. Checking emails, watching bbc news videos, whiling away the time, waiting for flight information…Will we receive our seats of or not?…SIGH.
At 10:30 AM we could not resist our fears any longer, so we began calling around to find out. And, then suddenly, an email came through, and LO AND BEHOLD, it contained our flight tickets!! Yes, the date is correct, and it departs tonight at 10pm, transiting through Doha, with an 8 hour layover.
Wow, strong sense of relief. We went back to our rooms to pack, and to take naps, after last night's rough sleep. They want us to go to the airport 4 hours early, not sure why, I guess just to be sure we get the "H" out of here.
This afternoon we walked a few deserted streets to make a final visit to our local watering hole for a goodbye drink, and once again they rolled the shutters up for us. Then we ate our last meal at the hotel. The staff made a lot of effort but we could not bring ourselves to do it justice. More pre flight jitters I guess? Our van arrived at 6pm, we loaded, and saying our goodbyes to the hotel owner, always such a gentleman who treats us like family, we set off. Even the hotel staff were there to send us off, and we bade them a warm good bye.
We drove out to the airport in a big van, splashing through the rainy but empty streets of Kathmandu. When we got to the airport, there were very few people inside (maybe 100?), it was really nice and quiet. We got all checked in, with our bags checked through to our final destination, and our preference of aisle and/or window seats. We went upstairs to go through immigration. There were no forms to fill in, so we asked the immigration officer for the departure form, and he says "THERE ARE NO FORMS". What? No forms? That is very crazy! Any way, he looked at our passports and stamped our boarding passes. Then, as we walked past the immigration desk, a very well dressed guard came up to us and said: "COME WITH ME".
And we think, UHOH, NOW WE REALLY ARE IN BIG TROUBLE. We follow him through an absolutely empty waiting room, then he takes us into a little lobby, and suddenly we are in a comfortable lounge, being greeted by 4 people in grey suits, who sit us down on some sofas and ask if we would like a drink. We enjoy tea, beer, peanuts and our lounge attendants engage us in light banter. They tell us they are from one of Kathmandu's 5-star hotels, 50% of which belongs to the King. We share king stories with them and they tell us of how they get to meet the king every week, when he and his family and friends come to the hotel to eat smoked salmon on fresh homemade bread.
Finally our flight is being called, so we cruise through security, head out into the final waiting room, where we can see who is really on this flight. The final waiting room is quite full…a LOT OF PEOPLE. Most of them look to be Nepalese. There are a few foreigners, who look like scruffy mountainclimbers. A bus pulls up at the sliding glass doors. A woman with an orange vest checks our passports once again, and then we board the bus, getting soaked from a downpour while boarding. The airport bus drives a few metres over to the stairway going up to the plane, and we wait for a long time as the airport staff hold umbrellas for whoever wants to be shielded from the rain while getting to the covered stairway. It is really raining quite hard.
We trundle into the plane, find our seats, and put our luggage in the overhead compartment. We get all settled in and then they run the hilarious Qatar Airways inflight safety announcement, which features the Manchester United Football Club. It is a really very well done and watchable security film. So, we are all settled in and ready to go, and then what happens. NOTHING. 1 hour passes and we are still sitting there in the same place on the runway. Finally a very nice pilot with a friendly British accent comes on the plane's public address tanoy system to announce that we are not being given clearance to take off. We look out the windows, and water is streaming down hard over the windows. It looks as if we are parked beneath a waterfall. We think to ourselves, oh my, TIN right up to the last moment, now we CAN'T TAKEOFF??
But after another hour or so, the rain showers eventually ease off, the plane begins to move a wee bit, the pilot comes on and tells the crew to get ready, the engines roar into life, we feel the plane accelerating, pulling us back into our seats, and now we are airborn. FINALLY!
---
12 June Everest News: Dark Day In Kathmandu
Today dawned a bit dark. This morning the sky is not really opening up and the air feels pregnant with rain. We need a cup of coffee just to wake up. Sure enough, after we finished breakfast, when we asked our office manager where are our international flight tickets, another dark message was forthcoming….We did not receive our seats on today's flight to Doha, Qatar, so we won't be leaving Kathmandu today, we wont be flying back to our home countries today.
OH MY. Please don't get us wrong, we love Nepal. Such a lovely country, with amazing friendly people. We love it here, of course we do. But, after 2 and ½ months, we are ready to be home with our families and loved ones. And the folks at home are probably feeling like it was good that we were gone, so they could have a break, but they are ready for us to return and complete the family profile once again. But, now, all that has been called into question. You could even say it is a disappointing and worrisome moment. And we are thinking to ourselves: How are we going to explain this one to the folks at home?
Well, we are getting a strong feeling that something has got to be done, so, we decide to move into action, and pay a direct visit to the offices of the travel agent who is meant to be organizing our flight. The agent's office is apparently on Durbar Marg, which translates into English as King's Street, which is in walking distance from our hotel. So we walk down some empty little roads and alleys near our hotel, and cross a few intersections. We are not seeing much in the way, of traffic,certainly very few pedestrians, no vans, buses, no cars and only a few motorbikes. As we walk we say Namaste with our palms pressed together, to several policeman guarding junctions, and they return the gesture, albeit with only one hand in a sort of sideways palm raised to their nose type of gesture. But, they let us proceed without question.
We come to Durbar Marg, the main high-fi shopping street of all Nepal, the Oxford Circus, the 5th Avenue, of Nepal, the place to see and be seen, with the movers and shakers, elite consumers of Ktm. Everything is shuttered, there are no vehicles, only a few pedestrians and a few police. As we walk down the normally bustling road, we feel like we are in a scene out of the movie The Day Time Stood Still. Its raining lightly, with the pitterpat of soft drops falling through still air onto untrod pavement. All of the shops have their shutters rolled down, Durbar Marg is dead, but, we come to one shop with the shutter rolled up about a metre. We tap on it, and someone inside rolls the shutter up a little more, and we can access the glass door, and opening that inward, we are able to enter an office, with desks, computers, and, AHA, people chatting on phones. So this is how they are doing it!
A very kindly man in his 60s greets us and offers tea, and explains the situation with our flights. We were not able to get a seat on today's flight, as it was oversold by many agents around KTM. However, this gentleman says he suspected as much and has already booked us on tomorrow's flight. THANK GOD. Suddenly images of living in our Kathmandu hotel for a month are erased, and our happy vision is renewed: the warm light of our homes, and embracing our smiling families once again. The travel agent tells us our tickets will 100% be issued tomorrow morning, 13 June, and we will fly tomorrow night. A bit of a CLIFFHANGER this. Such a last minute issuance of the flight tickets. T.I.N. right down to the last second. OH MY!
---
11 June Everest News: Day Trip Into The Kathmandu Valley
It rained quite a bit during the night, but this morning dawned clear and we had a lovely breakfast and a tasty cup of coffee to begin our day. However, we can tell that the monsoon seems to have reached Nepal, as its raining at some point each day and/or night, and seems there is always some cloud around.
What is the"Monsoon"? The Monsoon is a South Asian weather event which begins in the Bay of Bengal. In April and May, moist ocean clouds from South India and Bangladesh move onshore, often raining, and flooding the land. Monsoon rainfall provides a large supply of water for raising crops, so it is quite necessary. The monsoon regularly arrives in Nepal and at Mt Everest in June, and is normally present throughout July, August, September, and at times during the first half of October. The monsoon usually carries lots of rain and at upper altitudes, it may bring heavy snow.
Stuck for what to do, while we await tomorrow's flight on June 12th, one of our team has an idea: Lets go and visit some friends who live out in the Kathmandu Valley. Shall we drive out and see whats going on out there? So, we call a tourist car, one of those little vans with the green tourist sign on it, and for a double the normal fare of what a regular taxi would charge, we set off with the friendly driver, who is rather chatty and can recite the capital city of about 100 countries. We drive through the centre of Kathmandu (Ktm) City and out past the ring road. Having left the urban core of Ktm, the terrain is now sloping up to the distant green hills which encircle the Ktm Valley. The very flat center of Ktm city contains a population of probably around 2 million, but the entire Ktm Valley which spans the large broad area all of the way to the very high green hills which bound the whole Valley, contains a total population of at least 8 million and growing daily, hourly, and minute by minute. Everyone in Nepal knows that in Ktm are all of the jobs, education, health care, government offices, and everything one needs to lead a modern life. Walk or drive around in the afternoons and you will see at least 1 million kids of all ages coming home from school. My friend who works at a school says that at least ¼ of his students live in hostels, that is to say their parents are not around Ktm, but live in the village or are working in another country, such as India, Dubai, Singapore, UK and many others.
On today's taxi journey, we can see that upon the empty streets, and even the normally chock a block ring road, which is often challenging to cross, there are very few cars or bikes and no buses, no mini-vans. We remark to one another, that there seems to be no more than 10% of the normal amount of people on the road. We work our way up through the neighborhoods around the very famous new Grande International Hospital (15 stories tall with a helipad on the rooftop) with its accompany ten buildings of high rise apartments, to reach our final destination up near the green forests carpeting the steep slope of the valley, which is bounded by Shivapuri National Park and marks the end of inhabitance. Finally we reach our destination, a small three story house containing three flats, surrounded by fields and farms, a few other houses and a few farm production buildings, such as large greenhouses, poultry farms, etc. You can see the area is changing and is beginning to develop and become built up. One can imagine there will be solid buildings here within 10-20 years. But, just near the house we are visiting, we can see the trees of Shivapuri sloping up high into the sky, and the nearness of the national park is somehow a reassuring embrace of green, holding back the encroaching development, growing like weeds.
Our hosts are very welcoming, they roll back the door on their front gate, and we walk up to their 2nd floor flat. They remove their masks to smile at us, and we keep ours on. We can see that they have not had many visitors recently. They show us around their apartment/flat and we mount the stairs, to the roof top of the building to check out our surroundings. It is interesting to see all of the green fields around us, with the occasional building popping up in the distance. It feels as if this part of the Ktm Valley is napping for the moment, but will surely be waking up soon to the march of the excavator, the brick layer, the cement mixer.
We sit down to table to enjoy a delicious home cooked lunch with all fresh ingredients from the local farms, with fresh veggies and home made salads of many types, freshly picked herbs, freshly cooked chicken from the poultry farms, washed down with fresh cold filtered water from the well. Straight out of the garden, you can taste the freshness in every bite. It is so nice to share the bounty of the valley with our gracious hosts. Their son is 10 and tells the story of his online schooling. We even get to watch him doing a zoom class while we are there. They are studying English at the moment, and we enjoy observing he and his 20 classmates being led in English through the word scramble of the day, as they try to pick out English food oriented words on their laptop screens guided by their teacher, who is conducting the entire lesson in English. We note that this would not be possible in remote areas of Nepal, such as the Khumbu Valley where Everest is located. The wifi there is not available to the local people for free, if there is any wifi at all.
While the son goes off to watch a video reading of the book: "The Wind In The Willows", we sit around the table with our hosts chatting for a bit and sipping tea. The man of the house is a soldier in the Nepal Army, who is a home for a four day leave. He relates the sad story of his daily duty driving around Kathmandu in a covered army truck, picking up bodies of deceased people who have passed away and transporting them to the government crematorium to be burned. He says it is a tough job. Here in Nepal the local people don't seem to do much burial, but rather mainly cremation. We walk for a few minutes around their garden and look at the newly emerging vegetable plants and see the ground newly prepared for potato and rice planting. The starting of the monsoon heralds a new crop, and the beginning, once again, of the annual cycle of life.
We finish our visit and say goodbye to our hosts and wish them all of the best of luck, they were so kind to let us come and to cook us such a delicious fresh meal. Then we pile back into the van and return to our hotel down in Thamel, Kathmandu. It's a short drive, without the usual traffic, and takes us all of 20 minutes, on smooth uncrowded roads…what would normally be a 40 minute journey.
---
10 June Everest News: What's It Like To Be In Kathmandu Right Now?
Today began with an early good morning healthy breakfast at our Thamel, Kathmandu (Ktm)hotel. We had several visitors, friends from Everest basecamp, who had helicoptered back to Ktm last week, with the big airborne exodus from basecamp, when everyone choppered out, but our group had instead walked down to Lukla. It was so nice of our basecamp friends to come and pay us a visit in Thamel. They came by motorbike and we sat together in our hotel and drank coffee and chatted about good times, swapping stories about the Everest climbing season, just finished a few days before. After a few hours they left.
At a loss for something to do, someone suggested we walk around Thamel and have a look around. No one was on the streets, except for a few stray pedestrians a few police milling about, and a random motorbike cruising past occassionally. All the shops were closed and the metal shutters rolled all of the way down. It was past lunch time, so one member of our group, feeling hungry, suggested we visit a café near our hotel we often go to. The café was closed, but we noticed there were a few motor scooters and bicycles parked out front. On a whim, we decided to knock upon one of the rolled down shutters, and to our surprise the shutter rolled up, and a waiter at the restaurant said Namaste, the traditional Nepalese greeting, with his palms pressed together in front of him, as if he was praying, and welcomed us in.
At a loss for something to do, someone suggested we walk around Thamel and have a look around. No one was on the streets, except for a few stray pedestrians a few police milling about, and a random motorbike cruising past occassionally. All the shops were closed and the metal shutters rolled all of the way down. It was past lunch time, so one member of our group, feeling hungry, suggested we visit a café near our hotel we often go to. The café was closed, but we noticed there were a few motor scooters and bicycles parked out front. On a whim, we decided to knock upon one of the rolled down shutters, and to our surprise the shutter rolled up, and a waiter at the restaurant said Namaste, the traditional Nepalese greeting, with his palms pressed together in front of him, as if he was praying, and welcomed us in.
A few people were inside and we sat at a table near big windows facing the rear which opened onto a pretty courtyard. We ordered a delicious lunch of momos and tea and whiled away the afternoon pleasantly in the café chatting, eating and drinking. It begin to rain, so we wound up our conversation, payed our bill and walked through the quiet streets back to our hotel. The normally busy little lanes were empty, with virtually no motor vehicles and very few pedestrians, and we all noted how very clean the air was and the overall peacefulness of usually crowded bustling Thamel.
Back at the hotel, they told us our international flight had been confirmed for the 12th, so just 2 days to wait in Kathmandu until we could fly home. Not bad at all considering we had been informed the Kathmandu International Airport was closed… Kind of like Thamel it seemed, "officially" closed, but in reality, open and operating!!.
---
9 June Everest News: Welcome to K-K-K-Kathmandu!
Our helicopter touched down at 3pm on the Kathmandu airport helipad. We fist bumped with the pilot and thanked him for an excellent flight, and then a little micro mini van pulled up and we climbed aboard with our bags and started to drive down the tall grass lined airport frontage road, just next to the runway, questing for the airport terminal/exit. Cruising along the road in our wee little van without a care in the world, and suddenly WHAM, a big bang from the engine compartment, and our van came to a halt. We got out and our driver lifted up the center console to expose the engine and put his head in there, and began wiggling a few wires. This went on for some time. A few airport vehicles whizzed past, not even slowing down one bit. Now our driver was tapping on the engine with a screw driver. Then, he turned the ignition key and the engine half heartedly spun unevenly to life. He partially lowered the console/engine cover, motioned us inside, and we set off again, the engine only firing partially, in a sort of chugging, throbbing uneven journey, wobbling up the road. We could see the terminal ahead, and crossed ourselves, hoping we would make it. Our driver muttered and our van sputtered, as we limped ever closer to the terminal. I could not help chuckling to myself in irony, here we had just flown 140 kilometres in a million dollar high tech aircraft, and now we were nearly unable to complete the 1 kilometre voyage to the arrivals hall. T.I.N.
But finally we made it, and after our bags were x-rayed by the police in the arrivals area, we were turned out of the main gate and found trolleys and wheeled our bags out to the domestic terminal car park. There was just one van, sporting a large green sign in the windscreen saying "tourist", in the car park, which is massive, large enough for 500 vans. The driver loaded our bags and waved us inside the van, and we set off on what is usually a 30 minute drive to our hotel, located in Thamel, the main tourist district of Nepal. The drive went very smoothly, as there were no vehicles on the road. At the major junctions, such as Gausala Junction, which is normally a jampacked pulsing intersection of 5 major roads with trucks, buses, motorbikes, cars, bicycles, pushcarts, pedestrians of all ages and sizes all being orchestrated by police blowing whistles, waving their white gloved hands wildly in windmilling swirls. Today, in Gausala Junction, there were about 12 police, with orange cones set up in the middle of the intersection. There were no other vehicles about, and a few scared looking pedestrians. The police watched our van approach and seeing the green "tourist" sign, waived us through, without even stopping. After about 12 minutes we reached our hotel. There was plenty of parking out in front of the hotel, as there were no vehicles on the street. We saw a handful of pedestrians going about their business.
The hotel owner was waiting for us, coming out on the street to greet us an unload our bags, and very kind and welcoming as usual, and treated us like family. We were shown to our very comfortable rooms. We showered and came down stairs to eat a delicious dinner in the hotel dining room. After dinner we chatted for a while and then went to bed early. Today was a long and adventurous day of travelling and tomorrow is another day. It feels nice to be back in K-K-K-Kathmandu!
---
8 June Everest News: Our First Helicopter Flight of 2021
We awaken in Lukla at 5 am today to check the weather, and once again, the visibility is clear as mud. We cant even see the bottom of the runway. OMG, What To Do? Obviously the 18 seat airplanes wont be operating anytime soon this morning, so….during breakfast, we are reviewing our transport options. We think its not good to walk down to Salleri because it takes 2.5 days on slippery muddy trails YUK. We heard the helicopter to Salleri is not taking passengers, cargo only. Even once we get to Salleri, there are the logistics of organizing the jeep/bus. Which we heard may only be available for short distances, but not all of the way to Kathmandu. So that seems to leave us only one option, the helicopter. We telephone the heli company and again they are saying that its too foggy to fly to Lukla, so we need to walk down to Surke, 300 metres lower than Lukla, where its not so cloudy.
OK. LETS DO THIS. We pack up and pay our final Lukla teahouse biils. The current time is 10am, so if we are going, we better go now, so we can accomplish our heli flight today, and don't get stuck up here in Lukla for yet another day. Our Lukla teahouse host is doing a brilliant job of finding porters to help carry our bags down to Surke. And, then off we go, into the fog. We walk past the Lukla helipad which is a small meadow and a collection of shacks = old school. There is one heli there, and the pilot, bored and sleepy looking, slowly waves as we walk past. Then a little further down is a monstrous new concrete one story building with a large flat roof. DUHHHH WHAT IS IT?? A New Heliport?? WHAT….YES. Oh my, they even have helicoptered up a large excavation machine in bits and reassembled it on the construction site. Well, I guess that is progress…?!?!
We continue walking down through Lukla town on some little lanes I never even knew Lukla had (Note to Self: Must come back and explore this new-to-me Lukla neighborhood.). Finally we drop out of town and the trail becomes steep, winding down slippery narrow paths through the forest, sometimes on stone steps, other times on the slickest mud, that involves creeping along as if on wet ice. It reminds me of a Nepalese saying Rahto Mahto Cheeplo Bahto. Which translates as "red mud slick trail", and that basically means if you are walking down a steep hill and you step on that patch of slippery red mud you are going to fall hard on your you know what.
We keep descending down the trail and now there are a lot of bells ringing…something noisy coming up the trail towards us... WHAT THE? Oh, its 90 donkeys carrying an assortment of propane tanks and rice bags. These beasts are sure footed, never slipping, and their feet sure are shredding the trail, turning it into a sea of mud. After the donkeys pass, it is even trickier going down the newly excavated path. Another joy to behold: some enterprising workers have dug a massive ditch just in the middle of the trail, and layed an enourmous water pipe in it, and OOPS, somehow they forgot to fill in the ditch, so now we have to crawl down the dirt pile which is on the side of the ditch. NICE. Its actually beginning to rain harder now, so we stop to put on our goretex jackets and breakout our umbrellas.
We have been walking for 1 hour and Surke is nowhere in sight. We are still in the middle of a steep jungle. Suddenly, the silence is broken by, YES IT'S A HELICOPTER!!! But, it sounds as though it's a few kilometers away. WHAT? This is the point where we feel like we have been lied to cheated, robbed, and betrayed. We were told that Surke was 50 minutes walk below Lukla. All I can say to that is BULLSxxT !! Which brings to mind the Nepalese habit of underestimating distance and time. When they tell you how long something will take, you probably should automatically double it. Why are they always underestimating? Well, they do seem to have more time on their hands than us, they are definitely not as busy. So for them, two hours probably feels to them, what an hour feels like to us. They are very patient, while we are very impatient. For us an hour is an eternity. For them an hour is just a brief moment in time. Another reason they underestimate how long a journey might take is that they walk faster. When you see them walking down the path, often times they appear to be half walking half jogging, albeit in a relaxed, fluid sort of way. As often happens, its humbling to be passed by a group of 60 year old Nepalese women carrying heavy baskets on their backs sprinting down the trail, and chatting animatedly as they go. When you watch them shoot past you, they seem so effortless, easily gliding along laughing, while we foreigners are painfully plodding, panting and sweating.
Well, truth be told, we arrive in Surke 1 hour later and Surke turns out to be a beautiful lush grassy pasture with a helicopter parked in the middle of it. A heavy set man in his early 30s with longish hair, wearing a loose, not tucked in, baby blue golf shirt, no cap, comfortable leisure slacks, stylish grey shoes, and a gold chain, takes our bags and loads them into the storage compartment of the helicopter. He motions us into our seats and closes the doors. Then he climbs into one of the front seats. I look around for the pilot and then I realize HE IS THE PILOT. I had imagined the pilot would be an older military looking chap in a neatly pressed airforce suit. Wow, was I wrong. Regarding the age of the pilot, I recall a saying: There Are Old Pilots and There Are Bold Pilots, but there are no Old and Bold Pilots. Without saying a word, our pilot shuts his door, fires up the engine, which is not very loud, and we lift off.
When I say lift, I mean lift, straight up and a bit backward, I guess so we don't hit the trees in front of the chopper. We glide smoothly up and out of the Surke Valley set a course for due west, crossing over all of the intervening foot hills between Lukla and Kathmandu. In case we see a cloud, we go around it, rather than into it. Reminds me of another saying, The Clouds In Nepal Have Rocks Inside, That's Why Nepalese Pilots Fly Around The Clouds and Not Through Them. We are sitting inside a glass bubble with windows all round, so enjoying brilliant views of the forest, rivers, hills, and tiny terraced villages as we fly over. The dashboard of the helicopter is incredible, with myriads of little dials and gauges, plus there are tv screens and computer screens, and gps screens and a lot to look at. The pilot is holding two sticks, each stick is covered in buttons and switches. Plus the pilot has quit a few pedals on the floor, and his looks like a very busy job. He seems to be quite good at his job. OR SO WE HOPE.
And, in 45 smooth easy minutes, we arrive at Kathmandu airport, landing delicately in a parking stand with 9 other helicopters already parked.
---
7 June Everest News: What Would You Do? Airplane vs Helicopter. Wait, Walk, or Heli??
Today we woke up at 5am to prepare for our flight to Kathmandu (Ktm). However, the sun did not follow suit, it did not come up! That is to say, the fog is rather thick in Lukla. In fact, when we went outside to check, the cloud is actually touching the top of the airport terminal building. UH OH ! We called our office staff in Ktm for advice and they said our international flight is scheduled for 5 days from now, and we need to have a PCR test 48 hours before departure, so really we don't have to be in Ktm until 3 days from now, so A) there is still time to wait around in Lukla for the weather to improve enough to take an 18 seat "fixed-wing" 30 minute airplane flight to Ktm. Or, B) we could walk 2.5 days down to the town of Salleri (the nearest road) and take a bus back to Ktm on day 3 Or, C) we could take a helicopter flight to Salleri and then take a bus back to Ktm (2 day arrival in Ktm), or D) we could take a 45 minute helicopter flight direct from Lukla back to Ktm. Now we have something to do on this murky day: Carefully Consider Our Many Transport Options!! So, according to A) Flying by plane to Ktm: it looks very foggy and a bit dark…what are the chances that the weather might not clear? B) Walking down to Salleri: We heard it has been raining down there and the path is a bit muddy…how do you fancy slipping and sliding on a steep up and down muddy trail for 2.5 days? C) Heli + bus seems a realistic option, but how does the cost of heli + bus compare to direct heli to Ktm? D) Direct heli Lukla to Ktm: seems the easiest option….Hmmm. So how does the cost per/person and timing of different options compare?
A) 18 seat airplane flight to Lukla to Ktm = $167.00 + $50 for luggage (takes 30 minutes, but need clear weather).
B) Walk to Salleri, plus Bus/Jeep to Ktm: $120.00 for porters and teahouses + $50 for bus/jeep to Ktm including luggage (takes 3 days, but muddy path).
C) Helicopter to Salleri: $250, + $50 for bus/jeep to KTM including luggage (arrive in Ktm on day 2).
D) Helicopter direct to Ktm: $450. Arrive same day.
Well then. One factor we need to consider: The cost of the airplane flight to KTM is refundable, so we can minus $167.00 from all options B,C, and D above.
So, please think carefully about it. Which option would you choose? Wait, Walk, or Heli??
The first thing we are doing is checking the weather forecast. Lukla weather is notoriously hard to predict. We looked at 7 different forecasts, and they all mentioned rain and fog. Hmmm.
Well, it seems maybe risky to stay in Lukla. What if the weather does not improve? So we are checking with the helicopter companies. They say they are only operating cargo flights to Salleri, but not passenger flights. AHA!! Looks as though our mind is made up… We are going to helicopter direct to Ktm.
So, zeroing in on the direct heli to Ktm option, we ring the heli company back and they say their 5 seat "B-3" passenger helicopter is in Ktm at the moment and ready to come and pick us up now, BUT there is one catch: It is too foggy to fly even a helicopter to Lukla airport. OH CRAP!!! They are telling us we have to walk 1 hour down from Lukla to a town called Surke, which lies about 300 metres lower and is below the clouds, so they can fly out of Surke, instead of Lukla.
NOW it seems too late in the day (its already 2pm), to walk all of the way down to Surke, and still have time to helicopter to Kathmandu. So it looks like we will stay in Lukla tonight and then try again tomorrow. If the fixed wing 18 seat airplanes can't fly tomorrow morning, then we will revisit all transport options again tomorrow, earlier in the day.
At this point, all we can say is: Everyone please repeat after me: "WHAT TO DO? – T.I.N.!!"
---
6 June Everest News: What To Do when your trek is not quite finished?
We are in Lukla, our trek is done and we are all primed and excited to fly to Kathmandu (KTM), but, for some reason, we can't.?!!?? WHAT TO DO??? The weather is not so great, the pilots are being cautious, there aren't enough planes, KTM airport is too busy, or SOMETHING. OH SHITE!! What should we do? Well, Number 1, is to find out when we are really going to fly to Kathmandu, hopefully tomorrow. Number 2 is to relax and take it easy. Lets try to remember, This Is Nepal (T.I.N.), things have a way of working out, even when it seems they are looking hopelessly scrambled, somehow at the last moment, everything falls into place and it goes ok…we have to keep reminding ourselves of the mantra: "T.I.N." Number 3 on our agenda: Lets explore around Lukla. First stop: Lukla's Starbucks coffee shop. No its not real, but the coffee is not bad and it's a great photo opp. Walking around to the south side of the airport are some of the coolest lodges with interior gardens and gorgeous comfortable lounges, near the German Bakery (delicious). The hospital is over on this side of town and if you follow the trail past the hospital, you are plunged instantly into the Chetra forest and mountains with tiny little farms. This is the trail to Chutanga Village. Its beautiful and surprisingly jungly with lots of trees, flowers, birds, and waterfalls. Come back to town for lunch and a plate of the best local momos anywhere, at the little restaurant across from Namaste Lodge. Then head downhill along the northside of the runway, following the trail past the control tower and Paradise Lodge, to have a look at the helipad and watch the amazing B3 high altitude helicopters coming and going, like so many spaceships. Walk to the bottom of the runway to see where the planes plunge off the cliff/hill on their takeoff: incredible. Head back up into town for a quick drink at the Irish Pub, or the classic Waves Pub, where Bob Marley songs like Buffalo Soldier can still be heard. And please keep your positivity about tomorrow. Yes, we will be flying to Kathmandu…T.I.N.!!!
---
5 June Everest Base Camp Trek News: Lukla – World's Most Dangerous Airport
Today we walked into the small one-street village of Lukla, home to the Tenzing Hillary Airport which at 2860 metres / 9381 feet is the starting point trailhead of Everest Base Camp Trek. Lukla airport was accidentally built in 1964, by local Sherpas, supervised by Sir Edmund Hillary, who was forced to locate the 500 metre long (short) runway on a slope which goes straight into the mountain face, because residents refused to sell their choice flat farmland, and would only sell the less desirable hilly ground. When Sir Hillary bought them a lot of local chang beer and arak liquor, the Sherpas agreed to help build the runway and one hundred of them came out and foot stomped the cultivated fields into a compacted airstrip. In 2001 the runway was paved and a concrete terminal building and control tower were built. Lukla's runway slopes downhill until it drops away into steep cliffs and a vegetated precipice dropping 500 metres straight down into the Dudh Khosi River Valley. It takes 30 minutes to cover the 140 kilometres from Kathmandu to Lukla, and one of eleven Lukla-bound 18 seat twin engine propeller planes, some new and some bought second hand from India, are cleared for takeoff from Kathmandu International Airport's 3 kilometre long runway, flying due East across terraced foothills following the spine of the snowy Himalayan peaks, gaining altitude until reaching the high broad windblown Lamjura Pass. The plane bucks the winds on the pass and then settles in for more foothill traversing, with views of the snowy peaks getting better and even exposing glimpses of the Everest massif itself. Then your aircraft swings into the Dudh Khosi valley proper, and points straight at the wall of the Chetra Mountains. Lukla appears as a small green bench let into the big steep upswing of the Chetra Range, and, if you have the courage to look up the aisle ahead of your seat and peak into the open cockpit and out the pilot's windscreen, you will see the pencil line of Lukla airport appear on the slope. The runway comes up all too fast, and you quickly realize that your plane needs to be pegged perfectly to the foot of the runway…with no clouds blocking the view...because there is no turning back, you are inside a steep walled river valley, with no chance for the pilots to mess up the approach…no way to turn around and try again. And then suddenly, WHAM, with a big THUD, your plane is on the runway, climbing uphill straight into the face of the mountain, the pilot is pumping the brakes, and cutting the engines to zero, and G-forces pull you into your seatbelt hard. The plane slows, and steers into the tiny parking stand which can hold 6 planes, in front of the cute little terminal and, lo and behold, the passengers are all clapping and cheering and congratulating the pilots and one another: "We Made It, Thank God!".
---
4 June - Everest News: Sherpa Teahouses and Sherpa Food
Today revealed a fine trek through hemlock, pine, rhododhendron, and massive evergreen oak cloud forests deep inside the towering granite walled Dudh Khosi River Gorge as we trekked through villages like Monjo, Benkar, Chumoa, TakTok, Phakding, Ghat, Tarakoshi, Cheplung, and Chaurikharkha. This is the home of wild animals Musk Deer, Danphe Impeyan Pheasant, Himalayan Tahr Sheep, and Red Panda Bear, among others, and the richest most beautiful environment you will see on the entire EBC Trek. Sherpa families live and farm here, amongst tall ancient trees and massive boulders, and they also harvest wild foods from the jungle. Caring for us trekkers is an ongoing profession for the locals. We stay in their lovely well built, brightly lit, stone and wood homes, called "teahouses", where we have our own private rooms and bathrooms with running water and hot showers. We eat in their spacious dining rooms lovingly decorated with Tibetan carpets, comfortable soft cushions , beautiful hand carved wooden tables, with ornate copper pots and decanters on display. You can tell the age of the buildings by the width of the floor boards. The wider, the older: a 70 cm wide floorboard indicates a 100+ year old building. While enjoying your stay, be sure to ask for local foods and local drinks, and sample some of the Sustainable Local, and Organic (SLO) food and drink. There is much edible and drinkable treasure to be enjoyed from the bounty of Sherpa family's harvest:

Timbur-Ermang -- tangy spice in your dinner from the trees.

Sisnu - soup and gravy made from local nettles.

Diro - multi grain food from heirloom grains buckwheat, millet, and wheat.

Riki Kur – delicious potato pancakes from locally grown potatoes and wheat flour.

Somar – amazing cheese from Naks (female Yak) sometimes mixed with home grown chilis.

Thukpa – handmade noodles in delectable broth.

Shakpa – hearty stew from potatoes, onion, glassnoodles, and seasoned with optional bits buffalo meat.

Rilduk – mashed potatoes dipped in gravy.

Tee momo – steamed bread rolls eaten with soup.

Momo – delightful small steamed pastry pockets with tasty centers made of cabbage, onion, and optional bits of chicken or buff.

Shamung - mushroom fresh from the forests, cooked lightly with a bit of onion, garlic and timbur spice.

Achar – hand made pickled carrots, radish, mushroom, onion, mushroom, tomato, with a zingy, zippy, zesty taste.

Mar – butter from the Nak (female yak) used to make butter tea.

Sucha – salt and butter tea, a staple drink of Sherpa life.

Tongba – drink taken by metal or bamboo tube from a special covered flask, made of fermented red or black millet.

Chang – drink made of fermented millet, rice, or corn.

Arak – drink made of distilled chang.
---
3 June - Everest News: The Mani and the Chautara –
Today we are trekking beneath the towering peaks of Mount Thamserku, Kangtega, Kusum Kanguru, through villages of Loshasa, Sanasa, Kyangzoma, Namche Bazaar, and Jorsalle, just under the enourmous Namche Mother Mountains of Kwangde and Numbur. The forests here are superb pine, hemlock, rhododendron. The glacier fed Dudh Khosi river roars far below us in a gorge, cutting like a knife through the Khumbu. We are seeing plenty of songbirds and this morning even caught a nice long view of a herd of 9 wild long haired Himalayan Tahr sheep enjoying their breakfast munching on sweet grass. The trails are ever wide and well built creations of brilliant craftsmen and women, and are carrying us down the valley with a caring embrace of our footsteps. The Everest Base Camp trail is not just a conduit of cargo, beasts and people, but is a spiritual pipeline of Sherpa Culture. Along the trail are special stone carvings called Mani. These may be individual carved rock slabs stacked in long chest-high walls made of thousands of stacked stones, each with its own message carved in. Or, enormous trailside boulders and cliff faces may be carved with pictures of Buddhist deities, Mandala wheels of life, and messages in the Tibetan alphabet, which is the defacto written language of the Sherpa people, who came from Tibet 700 years ago (the word "Sherpa" means "People of the East" in Tibetan). The carved message on the Mani Stones is pronounced in Sherpa language as "Om Mani Padme Hom" and translates into English as "Hail To The Jewel In The Lotus", which refers to the portraits we have all seen of Buddha sitting with legs folded on a platform which is made of a Lotus flower. Buddha is the Jewel in the Lotus. This 4 word prayer, "Om Mani Padme Hom" is spoken by Sherpa people many times each day in their daily life, from dawn to dusk, accompanying normal daily activities such as stretching upon waking up every morning, or while doing special activities, such as when the Mount Everest Khumbu Icefall Doctors are routefinding through fractured icefields inside Khumbu Icefall, while searching for the best point to place an aluminum ladder over a 20 metre deep crevasse surrounded by groaning ice cliffs. So, as we wander along the EBC trail, our pathway is guardrailed by the Sherpa's Mani Stone walls. And yet, in the interesting duality of life in Nepal, built into the sides of the EBC trail, we also can find many stone resting benches, at waist height for porters to put their massive loads down upon and these benches are even for sitting down, having a smoke, a drink, a chat, together with friends. Called "Chautara" such benches are an ancient custom in the 4,500 year old Hindu Culture (As you know, Buddha was a Hindu Prince who took a vow of poverty and became the prophet of Buddhism). "Chautara" means resting place and can be a broad seat, a bench, flat spot under a tree, a bench, dais, or platform, and these EBC trailside benches are spots to sit, perch upon, meditate, pray, celebrate, nap, snack, and hangout on. Obviously the trail builders knew that those people carrying the heavy burdens up and down the path, needed to be cared for and would have to take breaks and be helped to restore their tired legs and sore backs at regular intervals. And nowadays, while YOU trek the EBC path, it is reassuring and renewing to stop and rest upon a Chautara, contemplate the hand carved beauty of the Mani Stone sentinel's pictures and writings, the lushness of the forest and be inspired by looking to the tops of the tallest peaks all around in the intricate patchwork of what is to be experienced along the Everest Base Camp Trek.
---
---
2 June - Everest News: Cooling It With The Coolies. We are trekking down the EBC (Everest Base Camp) wide path as we circle around the lovely snowy rocky flanks of mighty Mount Ama Dablam, the dominant mountain in this part of the Khumbu Valley, passing through villages and visiting old friends all along the way in little villages like Shomare, Pangboche, Deboche, Tengboche, Phungki Thangka, and so on. Our constant companions are the Coolies…WHAT??? "Coolie" could be considered to be a derogatory word passed down from Cantonese by colonials since the 1600s. In Nepalese language, a Coolie is a worker, and on the EBC trek, specifically a porter. But, "porter" is an English word, and the Nepalese word is "Coolie" and there is no other Nepalese word for these very important people. A Coolie is a Coolie…sorry. But lets be frank, the young farm boys who are carrying these 60 kilo loads of ungainly baggage which could not fit on a yak, such as tent poles, bread ovens, tables and chairs, propane showers, giant piles of thick huge mattresses, folding cots, 5 massive propane tanks strapped to a frame, etcetera, are really best identified (once you get to know them) by their tribal identities and the languages they speak, such as Rai, Tamang, Magar, Gurung, and occasionally a village Chetri, Brahman, or even a lowland Sherpa. "Coolie" is really their job description. And their job is very hard. They earn $35.00 per day, and they have to pay $10.00 for their food and bed, which they access in tiny packed "Rai Hotels" where as many as 20 Coolies will pile into a small shelter with a kerosene stove, a large sleeping bench and some communal blankets. So their take home pay is $25.00. That seems like a pittance, but if they worked every day, that could work out to $750.00 per month, which is much more than any Nepali manual laborer could earn in Dubai, Qatar, Korea, Singapore, or any of the many countries where the Nepalese "Brawn Drain" sucks away 30% of the Nepali work force each year. Plus, EBC trek Coolies don't have to have a passport or a plane ticket or an overseer. These Coolies who work in Nepal are their own boss, they get to keep all of their earnings, after buying food and a blanket. Of course they can only find work during the climbing/trekking season (after that they go back to their family farm) and they have to carry bloody heavy back breaking 60 kilo loads, with just one strap around their head. But let this be a tribute to the Coolies. We could not do our Everest climbing expeditions nor EBC treks without the Coolies…our hats are off to them and our hearts go out to them. We are deeply grateful for their service!
---
1 June - 1st Green- This morning dawned foggy. It was'nt easy to get up after our 1st night in a bed for a month. After a breakfast feast we set off across Dudh Khosi river through a massive boulder field spewed out of Khumbu glacier's guts. We strolled out into wide Pheriche plain with mists parting to reveal a glistening alpine garden of waist high emerald green bushes, many with tiny multicolored flowers sparkling. A wide variety of wee song birds cheaped, chirped, spun, dove and twisted through the shrubbery, obviously in an egg laying mood. The sun broke through and we found ourselves inside a herd of 80 yaks, several with fuzzy cute adorable babies, munching plants in slow motion, swishing hairy tails. Looming above us rose mighty Mt Ama Dablam towering with her 2 opposing ridges outstreched like arms embracing the Sherpa people. An emotional moment for us = We have'nt seen a green plant for a month.
---
31 May Everest News - Leaving BaseCamp: Until We Meet Again –
Our helicoptering members all made it to Kathmandu, and all of their bags made it to Kathmandu too!! Now they are enjoying the sweet comforts of our Thamel Hotel. The rest of us are trekking down. Its going to be fun. It snowed a little last night, but just a dusting, not a big deal. Our 24 yaks arrived at 7am and we took down our camp. When I say we, I am talking about a group of 27 people, working hard to get everything packed up into 25 kilo yak loads. These yaks are really amazing beasts. If you have ever seen a herd of them cruising along the trail with their huge bags, you would never forget it. They are a hairy species of cow and have been domesticated for at least 700 years. Yaks are huge and when they have enough food, they can easily carry 60 kilos all day long. It's the dry season now, so the yak herders have to buy grass at these high altitudes, and their yaks cant carry as much. When you are hanging around large trains of yaks, the first thing you notice is their massive hooked horns. WATCHOUT. Yaks are generally very slow and docile, but they can swing those horns around, jab at things, other yaks, or people and run at high speeds for short distances. Another thing about being around yaks, is the racket. They all have cowbells around their necks, so when you are walking with them it sounds like you might be in some kind of massive moving Christmas Market. And the yak herders are special people. They shout at their yaks in high pitched yelps. They throw rocks at their yaks with surprising skill, even when on the move. The herders have to lift the yak loads up and down, and strapping/unstrapping an inconsistent bundle or slippery barrel onto the back of a shuffling, cringing, twitching great beast is no mean feat. A sizable percentage of yak herders are women and their accuracy with hurling stones and their vocal range used in cajoling and coaxing their charges is unmatched. We walked today through the highest civilized outpost to basecamp, known as Gorak Shep, a collection of 7 teahouses, on the edge of the Khumbu glacier, dwarfed beneath the massive Mount Nuptse, and squeezed up against a dry lake bed, along the flanks of the Kala Patar Viewing Ridge, perhaps the most famous place for EBC trekkers to get a view of Everest. Then we walked down to Lobuche Village, the home of 10 teahouses and the main jumping off point to the famous Lobuche Trekking Peak, which has superb views of Everest from its summit. Also, Lobuche is the location of the fantastical looking giant Italian Research Pyramid, which is funded by the Italian Government and NASA and highly involved in atmospheric chemistry and other Everest weather research. Just below Lobuche lies the Dughla memorial to fallen Everest climbers, where their loved ones have built memorials to honour their passing. It is a very moving place to be and it seems you can feel the spirits of the climbers here, and the power of Everest. Then we hiked down valley to Dughla hamlet, a group of 4 teahouses and restaurants located at the terminus of the Khumbu Glacier, where the Dudh Khosi river begins, and the Everest Glacier ends. Its an amazing place to see the river in its infancy, shooting out from beneath the rocks. We stopped here for a delicious dinner and a good night's sleep in a soft warm bed, to the lullaby pitter patter of rain and sleet drops falling on the roof of our teahouse.
---

View from Pangboche. Himalayas view from Dingboche.
Steve at Tangboche. Hiking towards to Pangboche.
Tangboche gate. View form Tea house.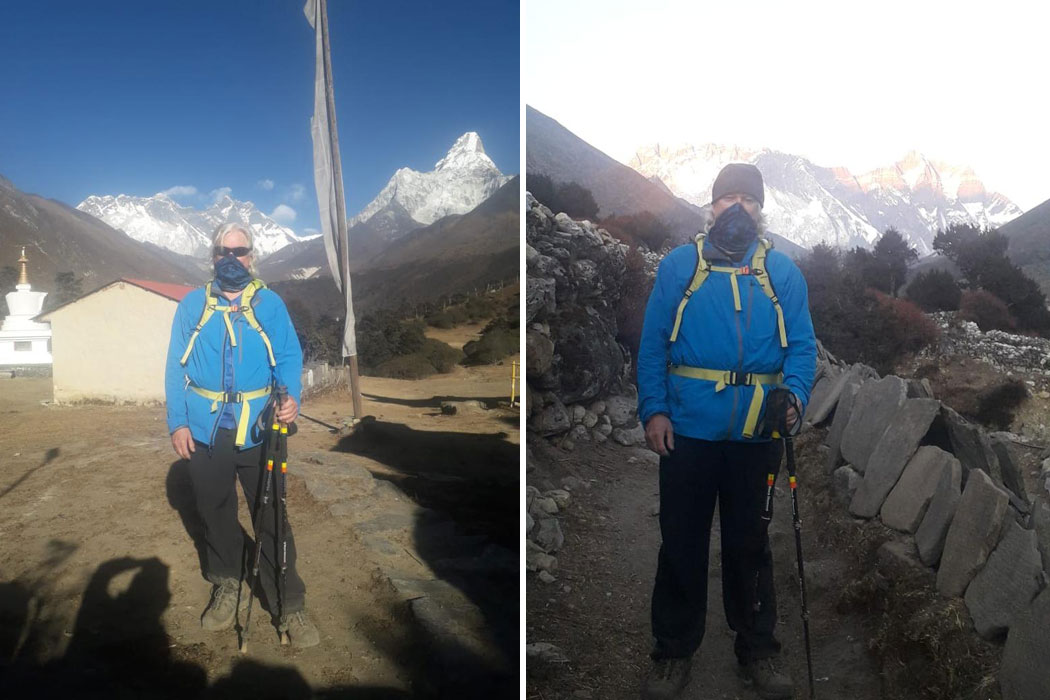 Beautifull view of Everest, Lhotse Shar, AmaDablam from Pangboche.

Today's rest day.

Ice Training at Chukung.
Ice Training at Chukung. We reach Chukung.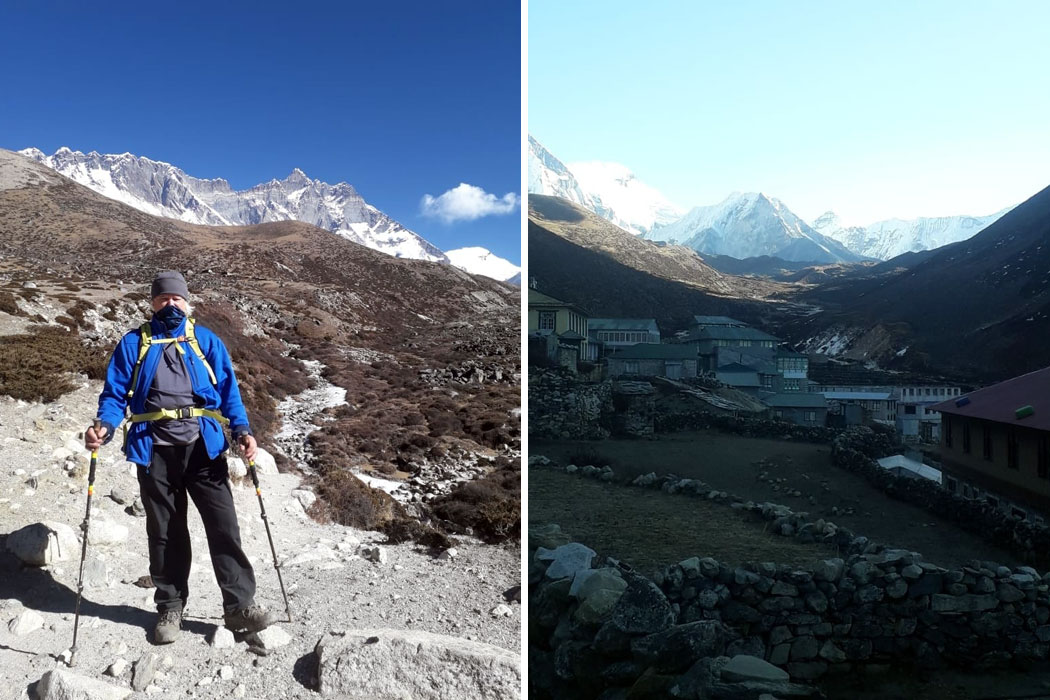 Nice and beautiful walk.

Steve Walls Photos
Steve Walls Photos
Gyorgy Puszta Photos.
Gyorgy Puszta Photos.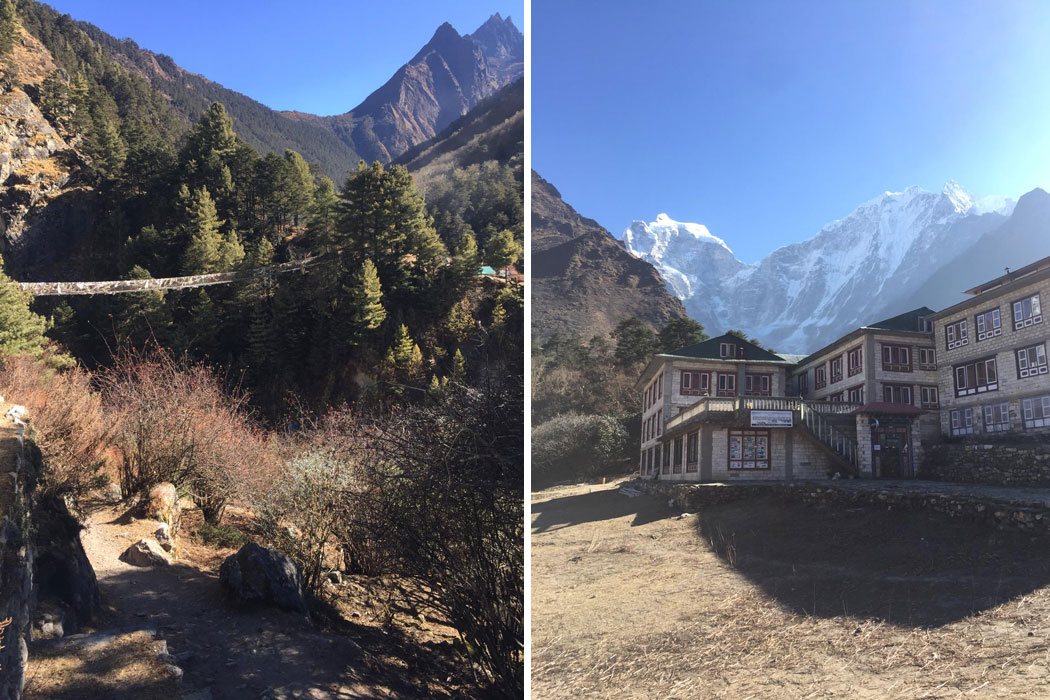 Gyorgy Puszta Photos.
Everest View Hotel
Stunning video of Himalayas of Khumbu valley.

Everest, Lhotse shar and Amadablam in backround.
Stunning Mountain Scenery, from Namche Bazaar, Nepal
Namche Bazaar, capital of Sherpa Village. Photo Steve W.
Empty trail of Khumbu Valley. Namche Bazaar.
Selfee György . Empty Khumbu Valley.
Ang Dorjee at one of the suspension bridge. Mount Thamserku. Photo by Steve W

Steve at Jorsalle, Everest National Park. Photo Ang Dorjee.
25 Dec - Team arrived at Lukla safely. Best Wishes For A Very Happy Christmas From Summit Climb!
Members and Sherpa at Lukla
Lukla Airport. Member at Lukla.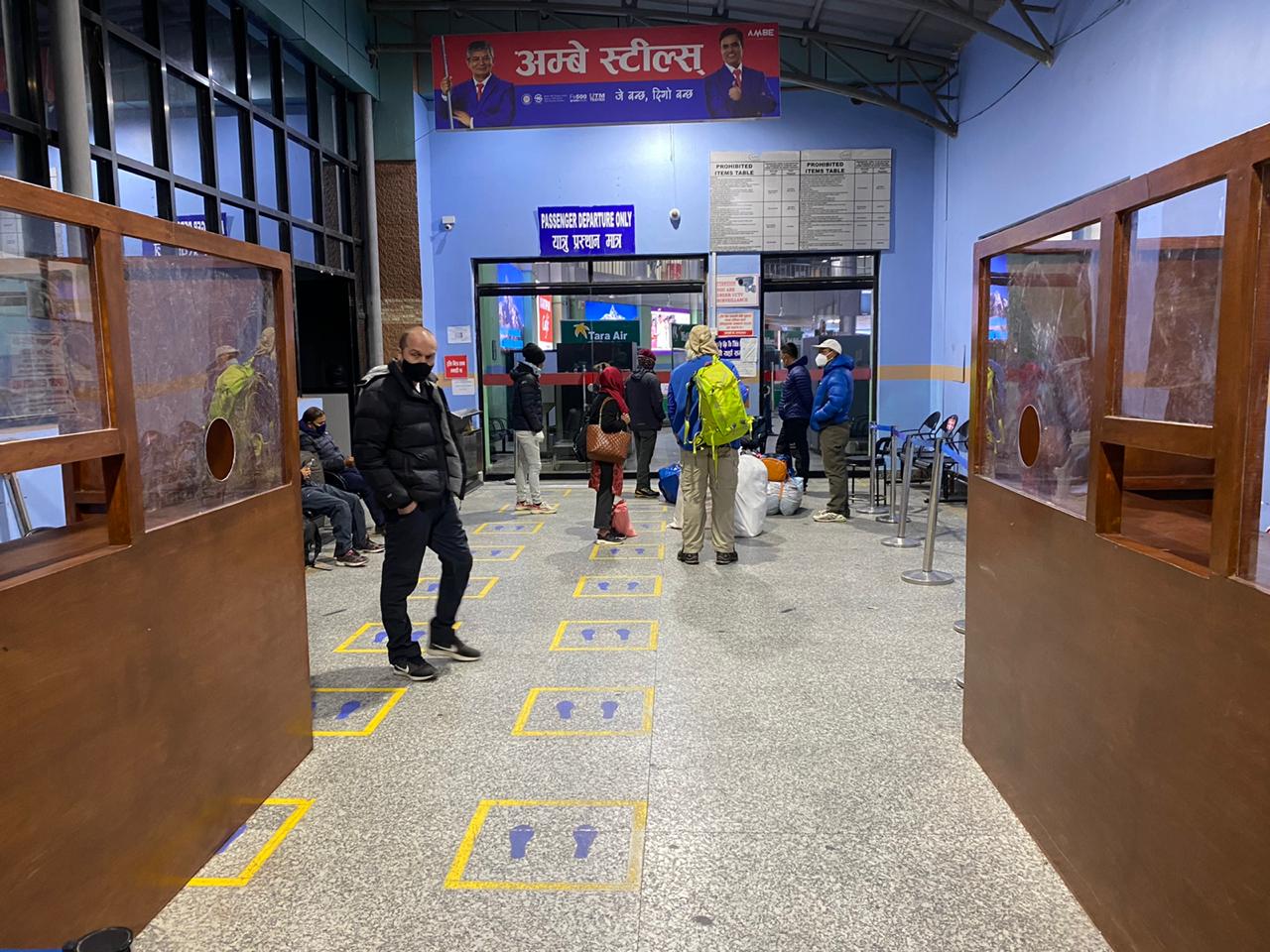 Domestic Airport
---
Team Roster:
György P. , Hungary
Steven W. , USA
Tenji Sherpa
Ang Dorjee Sherpa
---
---
Greetings to all Everest Base Camp Lovers! Our team of men and women of all ages have just returned from basecamp. Everyone made it to Everest Basecamp and Kala Pattar. Congratulations!!!
---
Team member comments:

It was a really exciting trek this year, as the weather was perfect every day. Our strong Sherpa team helped everyone to persevere and the group all succeeded in achieving their goal of reaching basecamp, bolstered by lots of hot tea, delicious food, and warm comfortable lodges all along the way. We welcome them back to sunny warm Kathmandu and Thanks to Everyone for Visiting Nepal!!!
Thank you so much for all of your very kind care. You planned so well and thought of every detail to help keep us comfortable and ensure a successful climb to basecamp. We loved stopping at the monasteries and learning about them. You really have made it possible to reach a goal that for many is just a dream. Personally that will change my life. Thank you for being a big part of making that dream come true in such a positive way. Blessings Babbi
---
Blog posts: Scroll down for day by day news of our climbing and trekking teams from previous season.
---
Everest basecamp trek group are at the Kalapather. Everest Basecamp trek group at Basecamp Camp.
Everest basecamp trek group at Dugla. Trekker at Player wheel.


Mount Everest seen from Namche Hill. Night at Summitclimb Everest basecamp. Photo courtesy of www.Johnalexander.co




Everest, lhotse and Nuptse seen from Pumori ABC. Everest Basecamp. Photo courtesy of www.Johnalexander.co
You have been so incredibly amazing. I am forever grateful to you for the experience you gave us and the knowledge that you shared. I will never forget this experience. Thank you !!! Tia

I strongly believe that we got the best, smartest, kindest guide on the entire mountain. I appreciate your gentle nature and your willingness to answer questions that we had. I will never forget the experience. Thanks again Rosey


Enjoying the day at Sangboche. everest basecamp trekker hiking toward basecamp. Photo courtesy of www.Johnalexander.co
Thank you for being an amazing guide and showing us the best places. You kept me fed really well and I enjoyed all of the meals. We had some great laughs and moments that I will cherish for the rest of my life. Nate


Everest Climber posing for photo during trek background Amadablam. Hiking at Dingboche. Photo courtesy of www.Johnalexander.co
What a great trip we had thanks to you and your team. I can't thank you enough. You and your team were always concerned about our safety, well-being and comfort. It seems that you always put us first. Also thanks for teaching us so many amazing new things. I appreciate the hotels you chose and all of the good food and tea! Brent


Hiking during Pumori BC. Hiking toward to Sangboche for Everest View. Photo courtesy of www.Johnalexander.co




Hiking toward to Tangboche. One of the many suspension bridge while everest basecamp trek. Photo courtesy of www.Johnalexander.co




One of the many suspension bridge. Player flag. Photo courtesy of www.Johnalexander.co




relaxing while trekking. Stupa while Everest Trek. Photo courtesy of www.Johnalexander.co




Team member at Namche. Yak at Everest Basecamp. Photo courtesy of Johnalexander.co